Hard to believe that it's December already. But we received our first actual snowfall this week, and decorations are up, so I have to admit I've been lazy about posting to this blog.
But since Christmas is almost here, it's time to repeat our favorite Simon Teakettle tribute. This poem won Bobbi a prize, and was also read on the popular Saturday afternoon program hosted by Arthur Black. His neighbor was so taken by it that she created the set of needlepoint coasters, which she asked him to send to us.
The Twelve Days of Christmas
by Simon Teakettle

On the first day of Christmas, my true love gave to me:

A chipmunk in a low tree.

Then:

Two catnip mice

Three fat frogs,

Four balls of string,

Five warm beds,

Six snowflakes falling,

Seven fishes swimming,

Eight faucets leaking,

Nine creamers dripping,

Ten dishes brimming,

Eleven leaves a-crunching,

And a chipmunk in a low tree.
Summer 2023:
This has been the hottest summer on record, and I've been staying cool by using my fountain, and keeping busy finding kibble in my green puzzle feeder:
April, 2023:
This April marks the unusual confluence of three major religions celebrating important holidays within a few weeks of each other. Ramadan, Passover and Easter all occur this month.
Winter, 2023:
We have to admit, winter arrived so furiously that it caught us off guard. Power outages, ice storm warnings, and miscellaneous computer glitches (I don't pretend to understand those!) kept us from updating this page sooner.
And I did turn 9 years old on February 3rd, so can be forgiven for taking advantage of my age to nap more and work less!
Our dear friend, Elizabeth, sent us a lovely birthday card all the way from Edmonton, and June Coxon, a special writer/artist friend sent me several cat drawings to celebrate my special day.
We continue to add new cats to our Celebrity Cats page, and the occasional new animal to our the Fan Club, although that has slowed down considerably because Covid kept so many of our friends from traveling.
Steve Pitt continues to send wonderful photos of his menagerie on Lake Talon, in Rutherglen, Ontario, but no new species. He continues to have many birds at his feeders, deer who wander onto his property (sometimes raiding the feeders!), and his dog, Chocka.
Bobbi keeps busy, writing Class Notes for the Class of 1956 from Barnard College. The spring issue is her last contribution, as someone else is taking over.
But she continues on the publicity committee for Orpheus, whose next production, Memphis, is a Tony-Award winner featuring a bi-racial cast of great singers and dancers.
December, 2022:
The Twelve Days of Christmas
by Simon Teakettle

On the first day of Christmas, my true love gave to me:

A chipmunk in a low tree.

Then:

Two catnip mice

Three fat frogs,

Four balls of string,

Five warm beds,

Six snowflakes falling,

Seven fishes swimming,

Eight faucets leaking,

Nine creamers dripping,

Ten dishes brimming,

Eleven leaves a-crunching,

And a chipmunk in a low tree.
November, 2022:
The huge trucks are finally leaving, and we're going to be able to enjoy a quiet holiday season!
Meanwhile, we continue to add to the Celebrity Cats page, the Fan Club, and have added a new affiliate to the Home page. Zach Designs will soon be joining us, with Zach Reisman's clever designs and his promotion of other mildly autistic artists.
Fall, 2022:
While working on the insurance claim for the storm damage, we were suddenly invaded by huge trucks who tore up our street, and began to install new sewers. The letter from the City announcing this was vague and arrived the same day work began!
Several of us made complaints in various forms, with Bobbi writing a very strong letter. She received a phone apology from an engineer with the city, who said we would be receiving a written reply to our letter.
Meanwhile, we had power outages, boil-water orders, and a LOT of noise. I began to take my daytime naps snuggled beside Bobbi in the recliner, as far as possible from windows and NOISE.
It's supposed to be finished soon. I want to return to napping on my cat blanket on the couch in the living room, and sitting on my carpeted seats in various windows.
Summer, 2022:
We had a lot of damage from the June 21st storm, filling our back yard with big branches from the maple tree and flattening the lilacs. Fortunately, no damage inside, although five days without power meant we lost all the food in the big freezer, fridge and its freezer. None of it cat food, thank goodness!
Meanwhile, our next door neighbors spent the month of June in Morocco, repeating their small wedding with a large ceremony and receptions there with both families. Among the photos she sent for the Fan Club is a large turtle with a blue shell. This also adds another country to the Fan Club page.
We learned that The Rijksmuseum museum in Holland decided to bring the art to the people. They took one Rembrandt painting from 1642, Night Watch and brought to life the characters in it, placed them in a busy mall and you can see the results here: http://www.youtube.com/embed/ a6W2ZMpsxhg?feature=player_embedded
Look for cats who were also attracted to the art.
Pluto and Edgar are black cat twins who welcome visitors to the Poe Museum in Richmond, Virginia.. They were found on the property as kittens. See the article about them, with photos, at: https://vpm.org/news/articles/32873/notorious-feline-siblings-celebrate-10-years-at-the-poe-museum
May, 2022:
Why the world isn't flat ...because cats would knock everything off the edge.
Stepan, the Ukranian cat who has more than 1 million followers on Instagram, made it to France with his owner, Anna. The internet-famous cat based in Kharkiv, Ukraine, posted an update after going silent for nearly two weeks. The 13-year-old rescue cat had a lengthy journey via Lviv and then Poland.
April, 2022:
This year, all three major religions celebrate their spring holidays within a few weeks of each other.
Easter arrives Aril 17, with Passover beginning April 15 and ending on April 23. Ramadan takes place all month, the exact beginning and ending dates always determined by the moon.
We have close friends who are Ismaili Moslems, and our next door neighbors, who are from Morocco, also celebrate the Muslim holidays.
This year,our dear friends, Zulli & Gulshan Najak, not only celebrated their 50th wedding anniversary, but they also were among the 5000 Ismailis who were rescued from Uganda by former Prime Minister Pierre Trudeau. When Idi Amn came to power, he decided to eliminate all the south-Asians who dominated business and the professions, and the Najaks had to go into hiding.
The Aga Khan called on his dear friend, Trudeau, to rescue his persecuted people, and Trudeau sent Air Canada planes with volunteer crew to bring them to Canada.
Bobbi told this story, along with a description of the building in Ottawa that houses the Aga Khan Foundation, in this year's Ottawa Independent Writers' anthology.
March, 2022:
Since last month was my birthday, I thought I should discuss zodiac signs, because I'm a typical Aries, while Bobbi is a Capricorn earth. I represent fire, she is earth. Both are cardinal signs, known for action and initiative. Allure Magazine: says that as the first sign of the zodiac, Aries loves to be number one. Naturally, this dynamic fire sign is no stranger to competition. Bold and ambitious, Aries dives headfirst into even the most challenging situations—and they'll make sure they always come out on top!
Capricorn is climbing the mountain straight to the top and knows that patience, perseverance, and dedication is the only way to scale. The last earth sign of the zodiac, Capricorn, is represented by the sea-goat, a mythological creature with the body of a goat and the tail of a fish. Accordingly, Capricorns are skilled at navigating both the material and emotional realms.
We are very compatible, and although she has taught me dozens of clever behaviors (I will touch something with my paw, sit up, stay, get down, etc.) I have a strong will and have no problem demanding what I want.
Bobbi's favorite editor, Dana, lives in New Hampshire on a rural property where she has a dog (no cats) and a tame squirrel.

She sent us the photo at the left, showing how he begs for peanuts and for her to fill the bird feeder.

Dana produces a wonderful newsletter, Freelance Writers Report, which Bobbi has contributed to for many years.

She runs the very successful Writers-Editors Network, and the newsletter is one of many benefits to members.

Her latest article will appear in the spring, and is about authors who procrastinate about finishing or marketing their books.
February, 2022:
Happy Birthday, Q.T. Penny
Here is the birthday card that arrived exactly on time from my dear friend,
Elizabeth, who sent it from Edmonton, Alberta. Bobbi put the number 7 in
treats on the envelope, along with my favorite mouse and one of my crinkly
balls, but as you can see on the right, I gobbled the treats quickly.

I don't feel seven years old, and certainly don't act like a middle-aged
cat! As you can see in the column to the right, I still roll on my back on
the floor like a kitten, and send messages to all my fans on the iPad.
January, 2022:
Many are ending 2021 with sad tales of COVID, but fortunately, deaths have been few among our large circle of friends and family in Canada and the U.S.
We cheered up by adding lots of energy-conserving LED lights, both inside and outside, which neighbors and visitors said they really enjoyed.
We left holiday decorations up until mid-January, and always keep any special birthday cards Bobbi receives on display in the kitchen all year long. They cover the kitchen closet door and on some of the shelves on the stereo cabinet beside it.
Having a birthday on December 23rd means a lot of cards arrive a bit late, but we don't care. The latest was delivered last week from Bobbi's oldest friend, who lives in California. It's a combination Christmas/birthday card featuring a tiny mouse in his bed in one section of a box of Christmas balls. The box is under the tree, waiting for someone to finish adding the last few balls, and our little mouse is tucked under the covers with a miniscule glass of milk and a cookie sitting beside him.
Hanging above his head, on the lowest branch, is his tiny stocking, waiting to be filled!
December, 2021:
It's time for The Twelve Days of Christmas, which has become a tradition in this household. The hand-made wall hanging (by a neighbor of CBC's Arthur Black) hangs in our den, where we can enjoy it all year round.
The Twelve Days of Christmas
by Simon Teakettle

On the first day of Christmas, my true love gave to me:

A chipmunk in a low tree.

Then:

Two catnip mice

Three fat frogs,

Four balls of string,

Five warm beds,

Six snowflakes falling,

Seven fishes swimming,

Eight faucets leaking,

Nine creamers dripping,

Ten dishes brimming,

Eleven leaves a-crunching,

Twelve laps a-awaiting,

This also appears in Musings/Musings
November, 2021:
I have many favorite spots to sit to look out the window. I have two carpet-covered shelves in the office and guest room windows, which allow me slightly different views of the front yard, as well as a carpet mat in the living room bay window, where I can see the yard next door, and wait for Don to drive his truck into our driveway, which he usually does on Mondays, Wednesdays, and Fridays.
Last week he surprised me by coming on Tuesday and Thursday mornings as well, so today I sat in the bay window, wondering if he would be coming again.
We've had a lot of activity there for the past few weeks. We have a lot of plants in this window, including a Schefflera about four feet tall. A few weeks ago we saw tiny pods growing from a single stem, both at the top of the plant and further down.
Turns out this plant - which is supposed to NEVER bloom indoors - is blooming! Or at least trying its best to flower. Even if it doesn't produce the orange or yellow flowers described in our web search, I thought I should share how fabulous this looks: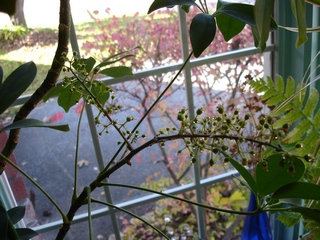 October, 2021:
It was 20 years ago when Mewsings/Musings was launched at the Cat Writers' Association conference, where the book won a Certificate of Excellence and Bobbi also won the $1000 award for best article on training, for Training Your Cat Like a Dog.
Bobbi also created this website that summer, adding to it every year so that it new gets high ratings on all the search engines. Many find her Canadian Libraries Database just by putting a search term like "Canadian libraries" into any browser.
This is a perfect time to order copies of Mewsings/Musings for holiday gifts. Bobbi is offering two copies to any single address for just $25. U.S. or Canadian. Contact her at simon (at) storm.ca to arrange for your order.
September, 2021:
Things are starting up again, but few in person. All of us who enjoyed our monthly First Tuesday dinners miss getting together. Staying in touch via phone and email doesn't substitute for the in-person conversations.
OIW continues to hold its monthly meetings on ZOOM, which has proven popularm as membership has swelled to 250. The organization is planning a 2022 anthology. See the past versions on our Recommended Books page.
August, 2021:
August 8 was International Cat Day. It's also time for us to acknowledge one of the major contributors to this website, especially to the popular Fan page. Steve Pitt lives in Rutherglen, Ontario, a small town on Lake Talon, where he, his wife and his dog share a home with a large front porch and wonderful vistas of the lake.
Steve is an avid photographer and bird-watcher, and has set up many feeding stations around his house, including a butterfly garden. He has added many species to our Fan Club, and has collected more than enough excellent photos to put a book together. We'll let you know when he does that!
Meanwhile, Steve has closed his website, due to hacking issues. But his work can be found in abundance here, and if you want to contact him, you can Google him or contact me with a request for his email.
July, 2021:
It's a strange Canada Day this year, not only because COVID restrictions are just beginning to lift, but because the country is both shocked and saddened by the discovery of the graves of residential school victims.
But you might enjoy reading about how the U.S. began its fireworks tradition on July 4th. It's on our History page. On the Facts page, you'll see that U.S. Presidents Adams, Jefferson and Monroe all died on the Fourth of July.
An extra note I want to share:
Bobbi and I have a close friend who has mild autism. Zach lives in Montreal with his parents, and has been developing a business which he hopes will provide a regularl income at some point. We've featured his lovely greeting cards before, and now he's branched out to create clever customized post-it notes. They come in 50-sheet pads measuring 3" x 3", and are completely customizable: artwork, placement of words, fonts and colours. They are great gift items. See all of Zach's work at www.zachdesigns.ca.
June, 2021:
This is Bobbi's 65th reunion from Barnard College, where she was a scholarship student who earned a degree in English (specialization drama) and minor in music.
For many years, she has been a Class Officer, serving as Class Correspondent which means she writes Class Notes for the quarterly magazine. She has also contributed articles to that magazine, most recently in the Spring, 2020, issue, and then again in the Winter, 2021, issue. See the Media Room for links.
Since all reunions are now virtual, a dedicated group of volunteers has planned some special Reunion events, including a 90-minute, live event on Zoom called Living in the Moment. Bobbi selected five classmates from Califormia, Texas, Colorado, Virginia and New Jersey to join her in a lively discussion which will range across many topics. It's being described as a dinner table conversation which Bobbi will lead.
So she's been busy! Of course, I've done my best to be supportive, making sure not to bother her or Meow during the Zoom meetings and rehearsals!
I've kept the website up to date, adding some interesting new items to the Facts, Culture, and Cat Facts pages.
May, 2021:
We have a great many wild cats in the Fan Club, but not everybody knows that I have many at home as well. One of my faovrites is a tiny tiger whose tummy sometimes contains catnip (!). As you can see, I like to cuddle and wash him in the bathroom (where else?), using not just my front paws to hold him, but also one back paw. And Bobbi also snapped a photo of me sitting behind my big tiger. He dominates the chest at the bottom of the bed, leaving hardly enough room for me:
April, 2021:
Bobbi and I are still keep very busy, and because she isn't going out at all, we spend much more time together. She bought me a new scratching ramp because I keep shredding the two older ones. I let Bobbi clip my nails, but I still manage to catch some of the sisal and carpet coverings on the boards.
Meanwhile, I continue to enjoy my new drinking fountain, recommended by Eric, the owner of the local pet shop where we buy Smart Cat Litter. I really love it, as I do the puzzle feeder. Bobbi managed to capture a few photos we thought you'd enjoy.
March, 2021:
It's been a very cold winter, but we don't care because I don't go outside, and Bobbi hasn't been out at all for MONTHS!
You may think we're not doing anything, just because I'm not adding to the blog as often as I used to. But we're adding to all our FACTS pages as well as the Very Long page where we list all the cats that belong to celebrities. We're seeing more cats on TV these days, as famous people do interviews via Zoom, because their cats and dogs (and kids) often appear on camera.
Bobbi does Zoom meetings as well, for the Orpheus Publicity Committee, the Barnard 65th Reunion planning committee, and mnthly OIW meetings. At the last OIW meeting, she reminded me that she had to juggle the iPad and her clipboard list of the agenda and reports, because she served as Parliamentarian. I have no idea what that means, but I gather it's Important, because I heard on the U.S. news that the Parliamentarian in the U.S. Congress made a serious ruling that affected their recent vote.
I have learned not to bother her when she had the iPad on her lap. She reads newsletters there every morning, whith seem to be very important, and she lets me know when she's preparing for a Zoom meeting, reminding me that if I want to sit on her lap, it has to be over her feet. That's one of the many phrases I understand very well, and always obey.
What a Good Kitty I am!
February, 2021:
We're celebrating my 7th birthday this month. Bobbi found me at the humane society in Aylmer, Quebec, six years ago, right after I'd been spayed. They didn't know much about me, except that I had turned up at a house when snow started falling, and that family kept me through the holidays. I had been an outdoor cat, and don't remember a lot about that except that I was VERY HAPPY to find a forever home, where I was the only pet.
My name was already Penny, so she began to call me Miss Q.T. Penny Teakettle, at I was the fourth Teakettle to take over the company and this website.
I had been an outdoor cat, but was happy to stay indoors where it's warm, comfortable, and I don't have to hunt for food! I have lots of toys to play with, and many windows where I can watch squirrels (and, in the winter, snowshow hares, who live under our front porch!).
My Christmas present this year was a second scratching board, and my birthday present was a new fountain.

Our dear friend, Elizabeth, has NEVER missed my birthday! She always sends a card from Edmonton, and this year's showed a ginger cat having a massage give by a tabby.

The envelopes, as you can see, is addresses to "Penny," c/o B.F. Graham, with our postal address.

Of course it's also Lunar New Year and Valentine's Day!
January 15, 2021:
This year marks several important anniversaries. It's the 20th anniversary of this website, which was started when Mewsings/Musings was in production, and this blog, which Terzo began in 2006, when Bobbi found him at 12 weeks old at the Ottawa Humane Society.
It's also the 115th anniversary of Orpheus, which is among the oldest continuing theatre companies in Canada. Bobbi has been a supporter for more than 75 years, initially as a broadcaster for CBC and the Entertainment Editor of What's On in Ottawa, then as an Angel, and currently as a member of the publicity committee.
We continue to add to the Fan Club, which currently has more than 186 species from 57 countries, with all photos taken by people we know, not from stock photo collections or from the internet. The latest additions are four clever deer on the property of one of our most frequent contributors, Steve Pitt, who lives on Lake Talon in Rutherglen, Ontario. Steve hangs his bird feeders high enough so the deer can't reach them, but this quartet has figured out a clever acrobatic move!
January, 2021:
We've started to update this blog only once or twice a month, and urge you to check the many other pages that refer to cats on this site. See all the links, above, as we add to Celebrities frequently, as well as to Cat Facts and Resources.
We regularly add to all the Facts pages as well, having just added information about Animals, Food, Inventions, History, Culture & Language, and things like Kwanza, which we just found out means "first" in Swahili. The celebration of African-American culture and heritage reflects the first harvest marked by generations of Africans. First celebrated in 1966, Kwanzaa sought to build family, community, and culture.
And, the largest organism on Earth is not a giant dweller of the sea, but rather an enormous colony of genetically identical quaking Aspen trees that all originate from the same root system. This gigantic colony, known as Pando, is made up of clones, which increases its massive size. Pando located in south-central Utah inside Fishlake National Forest and dates back many, many thousands of years.
Also, did you know that America's oldest, unbroken treaty relationship is with Morocco, which was the first nation to recognize the US. The treaty was signed by Thomas Jefferson, John Adams, and Sultan Muhammad III. It has lasted 232 years and is called the "Treaty of Friendship".
This gigantic colony, known as Pando, is made up of clones, which increases its massive size. Pando located in south-central Utah inside Fishlake National Forest and dates back many, many thousands of years.
December, 2020:
It's time to share Simon Teakettle's version of The Twelve Days of Christmas, which appears in Mewsings/Musings. The poem was read by Arthur Black on his popular CBC radio show, Basic Black, and inspired one of his neighbors to create a fabulous needlepoint wall hanging. Here are the list of things in the poem, along with a photo of the wall hanging.
The Twelve Days of Christmas
by Simon Teakettle

On the first day of Christmas, my true love gave to me:
A chipmunk in a low tree.

Then:
Two catnip mice
Three fat frogs,
Four balls of string,
Five warm beds,
Six snowflakes falling,
Seven fishes swimming,
Eight faucets leaking,
Nine creamers dripping,
Ten dishes brimming,
Eleven leaves a-crunching,
Twelve laps a-awaiting,

And a chipmunk in a low tree.
November, 2020:
Bobbi has been connected to Great Canadian Theatre Company since the year after it was formed. That was 1976, when the very first Simon Teakettle was the Resident Feline. She has become friends with all the Artistic Directors, and we featured Eric Coates' tuxedo, Carl Perkins, last July.
Because GCTC was closed by the pandemic, and Eric and Carl lived in a high-rise, they moved to Stratford for the summer, where Carl enjoyed playing with the elderly female belonging to Eric's friend, Marion. When she passed over the Rainbow Bridge last summer, Carl really missed her, so Eric has adopted a new little guy to keep Carl company.
His name is Pokey, and one of the pics Eric sent showed him sitting inside a flower pot, so he's a real character!
October, 2020:
We're often asked why the website is named SimonTeakettle.com. To understand you need to read about the first Simon Teakettle, a black male cat Bobbi adopted from a "free to good home ad" in the Ottawa Citizen. His story includes becoming a famous broadcaster and writer, who lived to 17 and was immortalized by Simon II (nicknamed Tiki) in the calendar centrefold (below) which also became a pull-out poster in Mewsings/Musings, co-written by Simon I and II and Bobbi.
Simon III *aka Terzo" took over in 2006, started the Mewsical Society and the Fan Club, which now numbers more than 186 different species.
Simon's first CBC host, David Lennick, sent wonderful gifts , among which are Miss ChristMouse and Claude DePussyCat, which you can see below, along with the centrefold of the first Simon, which sold to the I Love Cats calendar and was then used as a pull-out poster inside Mewsings/Musings.
Miss ChristMouse was the first gift David gave to Simon Teakettle.

The first Simon Teakettle had not a single spot of
white on his coat, very unusual for a black cat.

Right, Mr. Claude DePussyCat, in his wicker chair.
September 12, 2020:
We're late posting this week because a Big Truck parked in front of our house yesterday, which I was watching carefully because Bobbi opened the front door so I could see the full front yard. After a bit, a man came out, not only wearing a mask (like everybody should these days) but with lots of GEAR attached to his belt and over his shoulder. He was carrying two boxes, and came to change our computer router and modem. I have no idea what these are, of course, and don't care as long as the computer works!
The internet is supposed to be faster, which if good, I guess, if you care about those things. What is fascinating me right now is a new gadget Bobbi carries around everywhere. It's not a camera, which I know all about, although it can take pictures, and it's not a phone, because we have lots of those in every room in the house. I don't know what to make of it, and Bobbi won't let me touch it (of course!) so I just have to watch as she pokes it with the same kind of thing she uses on the iPad. I think it's the same thing, but smaller, although she's able to make phone calls with it and it rings an alarm when it's time for her to take pills.
It always amuses me all the gadgets humans need, when all I need is canned and dry food, litter and litter boxes, a few toys and some nice places to sleep. She thinks my canned food needs to be refrigerated, but if she gave me the whole can at once, that wouldn't be necessary!
September 5, 2020
Several people have commented that Colleen and I don't look that much alike. For one thing, my eyes are GREEN and I have a grey blaze down my nose. But we enjoy her friendship nonetheless. He pointed out that some of Allia's books are no longer available, so do go to the website to see what's available, and what's new. She's very prolific!
I adore pencils. I've learned not to snitch them, unless Bobbi drops them on the floor (whee!) but I do love to play with them if I get a chance. So I was fascinated to come across an interesting fact about them. It seems that in 1837, a father and son team started making pencils in Massachusetts. The son, on graduating from Harvard University, wrote a friend, "I am as unfit for any practical purpose as gossamer for ship timber; and I am going to be a pencil maker to morrow." However he more than found his proper vocation, as he was the famous author, Henry David Thoreau. We're adding this to the page of Culture facts on this website.
August 29, 2020
We have a friend, Colleen Fiona Nolan, who lives with Bobbi's friend, Allia Zobel, helping her write the same way I help Bobbi (most of the time). Here's a current photo of Colleen, along with covers of two of Allia's many books. We keep Cat Confessions in the living room, for guests to browse when they visit.
| | | |
| --- | --- | --- |
| Do you think Colleen and I look alike? | \ | |
August 21, 2020:
Media personalities are spending more time with their pets, now that they're working from home, and Brian Stelter & Oliver Darcy at CNN's Reliable Sources newsletter are featuring many of these in their newsletter. We've added many of them to our Celebrities who Live with Cats list, including Oliver Darcy and his fiance, Elise, who just adopted a hairless cat named Albert. Bobbi is going to send them my photo, to see if they'll use it in a future edition of the newsletter.
I haven't counted the number of humans on this page, but there are a LOT of them. They include some famous cat people, including Taylor Swift, Jann Arden,
Dr. Oz, Prime Minister Trudeau, and former Vice President Joe Biden and his wife, Jill. We're hoping there will soon be a cat in the White House again!
Speaking of politics, did you know that the reason why the Democrats have a donkey as their animal symbol is because in 1828, Andrew Jackson's opponents called him "Jackass"? The elephant as a Republican symbol is more convoluted, promoted, eventually by cartoonist Thomas Nast, who is also responsible for Santa Claus.
August 15, 2020:
Hard to believe it's the middle of August already! Our hydrangea bush was very late blooming, so even I was fooled as I looked out the front window.
Did you realize that some are saying that having five Saturdays, Sundays and Mondays in one month is somehow ominous? As if we needed some other reason to be confused this month.
Are kids going back to school where you are? It seems to vary widely from place to place, school board to school board. I love watching the kids walking back and forth to school, and miss seeing them playing on the street as well. All we've seen this summer is the occasional bike speeding by.
Bobbi is fighting with her email program. I'm not involved, because our website and my blog are just fine.
But I did find it interesting to have Paul, who hasn't been here for a long time, arrive at our front door Thursday evening and spend several hours in the living room, with his computer on his lap, his phone by his side, and Bobbi's iPad on the other side of him.
He used to come every week for a piano lesson, and sometimes come to work on this computer in the office, but it was interesting to see him in the living room. I sat and watched for a while, but then I got bored! Not enough conversation to keep my interested.
August 8, 2020:
Today is World Cat Day. In honor of that, Bobbi was taking a few photos of me on my favorite cat blanket on the living room couch. It doesn't collect cat har as badly as the couch itself, which is blue velvet! I do love it, and think it was a terrific birthday/Christmas gift to Bobbi from one of her former Latin School of Chicago students. He's okay with my taking it over!
Meanwhile, Steve Pitt found a baby skunk napping under his chair on the porch. The skunk didn't seem to mind that Steve shared his space, which is good because Steve wouldn't have been happy to be sprayed! He did, however, keep his dog, Chocka, away, as she would surely have gotten into trouble!
Here I am, lounging on my special blanket, and then appearing to be baring my teeth (but actually just yawning), and the baby skunk.
August 1, 2020:
We came across a great article this week about pets who live in museums. Gli the Cat lives at Hagia Sophia, while Mildred is a cat who lives in the parking lot at the Tate Museum in London. The Philbrook Museum of Art in Tulsa, Oklahoma, has three cats who live in their gardens. They look a bit like Yours Truly!
Of course there are many cats on the Hemingway estate in Key West, which has become a museum. They're all polydactyl, descended from the famous author's original brood. They're all named after celebrities.
Donkeys from Sardinia live on the grounds of the Magazzino in Cold Spring, N.Y., which houses contemporary Italian art.
And there are many dogs who serve as "docents" or guards at museums, including Riley, at the Museum of Fine Art in Boston, and Emma, the standard poodle who serves as a tour guide at the Missouri Museum of Art and Architecture.
July 25, 2020
My prize-winning writer friend already had two cats when her daughter brought the mother cat and another sister to stay for a while. Alicks was a feral cat that M had been feeding for months. One day she crawled under M's bed and had kittens! Miller took two, Sunny, a tortoiseshell like her mother and sister, and Sylphie, who is all black. They felt most secure in their cage, and Miller says that every evening, around 9 pm, Sylphie gets in the cage and waits for her evening treat. Sunny then waits about half an hour before climbing into the cage, because Sylphie gets upset if she can't go in first and get settled.
Alicks prefers her oldest, Teddy, who is a long-hair grey tabby, and often washes her thoroughly once a day. Here they are:

Alicks (top) and Teddy.

Sylphie, above, and Sunny, right. Both really like
boxes.
July 18, 2020:
The pandemic lockdown has resulted in some hilarious results. As all cats know, we don't like to be left out of the action. So the Dean of Canterbury Cathedral was delighted when their resident cat, Leo, who is "used to being on show, having been born in the Deanery and growing up here" now joins in the outdoor chanting.
Jerzy Targalski, a Polish historian and political scientist, was interviewed by the Dutch news show Nieuwsuur about the Polish Supreme Court. Targalski's expert commentary was interrupted when his kitty, Lisio, decided to get in on the conversation by climbing on his shoulders.
Many newscasters have had to deal with cats who wave their tails in front of the camera, and Betty the Weather Cat is no exception. Jeff Lyons. meteorologist at WFIE's 14 News team in Evansville, Indiana, was no exception.
All these examples are on FlipBoard this week.
July 11, 2020:
We were updating our award-winning article on training cats and checked out the link for Sticky Paws, only to find that it was purchased by Pioneer Pets, who are the great folks who make my favorite litter. Go to https://pioneerpet.com/ and look for both Smart Cat Litter and Sticky Paws.
I don't need Sticky Paws, because I don't scratch furniture! It also helps that I let Bobbi clip my claws, so if I "happen" to stretch on the couch (perfectly innocently, of course!) my claws don't grab anything.
Do any of you remember Carl Perkins, my tuxedo boyfriend? His human, Eric Coates, is the Artistic Director for Great Canadian Theatre Company, and he and Bobbi are friends. I remember sending pics of him when he was a baby, but Eric just sent us this current one, of Carl hanging out (literally!) in Stratford, where he and Eric have moved for the summer. The middle pic is an earlier one. I like to lie on my back in the summer, too!
July 4, 2020:
We're celebrating two holidays this week, as I'm a Canadian, and Bobbi, although a long-time Canadian resident, is still an American. That means we're watching a lot of musical performances and fireworks on TV. Some cats are afraid of fireworks, but I'm not afraid of ANYTHING!
Did you know that it was President John Adams who decided that July 4, should be celebrated by fieworks? That was back in 1776, so they have been a tradition in the United States, since its beginning.
Another tradition you may not have known apart is that on July 1, 1908, "SOS" became the international signal for distress. These are among the fascinating facts we keep adding to this website.
We may have some new photos to share next weekend. Bobbi has one of those clever phone things that takes pictures, and I expect she'll be pointing it at me!
And we have a new photo of my boyfriend, Carl Perkins, who recently relocated from Ottawa to Stratford for the summer. More about him next week.
June 27, 2020:
There's a beautiful Blue Smoke Tuxedo with lovel y long hair who lives at a bookstore in Edisto, South Carolina. Her name is Emily Grace, and she just arrived one day, having decided that a book store was her ideal new home. She greets both customers and authors who go there to sign their books, including C. Hope Clark, who publishesFundsforWriters, one of the Writer's Digest 101 Best Websites for Writers. The is the author of The Carolina Slade Mysteries and The Edisto Island Mysteries. You'll see Emily Grace helping her at a recent book signing.
June 20, 2020:
Tomorrow is Father's Day. Most cats have no idea who their fathers are, except in those rare cases when a cat family remains intact, in the same household.
But there are a few notable examples of male cats who aren't as "tomcatty" as one would think. For example, if a Siamese female doesn't have a Siamese male to mate with, her second choice is a black male. That's why many black cats are a bit smaller, with several characteristics of Siamese cats.
Tiki (Simon Teakettle II) happened to one of these.
His mom was a grey tabby, and he had several black siblings, as well as a grey tabby and a mostly white with black spots. Bobbi selected him from the litter for a couple of reasons. One was that, although the kitttens were still too young to be adopted, he was the only one curious enough to allow Bobbi to pick him up, and he responded to her rather than wriggling to return to mom.
He was also the most black of the litter, with just a tiny white locket. Since he was to fill the Very Big Paws of the first Simon, whose mug shot was already in many magazines and had established a reputation as "the classy cat in the black fur tuxedo" on CBC radio, he was ideal.
What Bobbi didn't realize until she got him home was how very clever he was. After a couple of years of wondering why he had retained the pointed face and sleek body of a Siamese instead of filling out as he grew, Bobbi did some investigation. Evidently, Tiki had a Siamese grandmother and a black grandfather. His grey tabby mom might have also mated with a black cat who had a Siamese mother, explaining why Tiki even sounded like a Siamese.
He left even bigger paws to fill than the first Simon did! Both Terzo and I had to scramble to match Tiki's cleverness and ability to understand complex commands.
Daddy cats often have little to do with their offspring, even if they happen to live in the same household. But there are examples of a male who fills in for a sick mama cat, washing and cuddling the little ones when mom is too ill to take care of them.
And Bobbi once read a charming story about a black male (could he have been part Siamese?) who came to the back door of a lady almost every day. He would come in for an hour or two, enjoy a meal, and then leave. But one very cold night she heard scratching at the door. and he had a tiny black kitten in his mouth. She realized immediatel that he was bringing the kitten to her to care for. But he also remained in the house for weeks on end, washing the kitten, making sure it ate, and only left (never to be seen again) when the kitten was old enough to care for itself. The woman adopted the kitten, of course.
June 13, 2020:
There is actually a day called Cat World Dominance Day. It's June 24, but all cats know that this is a Really Stupid Idea.
First of all, as the magnet on our microwave says: Dogs Have Owners; Cats Have Staff. In other words, we don't need a single day to dominate the world!
Cats are more popular as pets than dogs, and have a number of other advantages over their canine counterparts. For example, Cats are better at problem solving than dogs, and have a better capacity for visual learning than dogs. The giraffe, the camel and the cat are the only animals to move forward by moving both their right feet, then both their left feet. This way of walking lets cats move with grace and agility in perfect silence.
We have over one hundred vocal sounds, while dogs only have about ten. Different meows vary in pitch, rhythm, tone, volume, and pronunication. The number of sounds a cat makes depends on the situation. If the cat communicates primarily with humans, they tend to have a wider "vocabulary" because they've learned that humans respond more to sounds than to body language. They quickly learn which sounds elicit the reaction they're looking for. If a cat howls for food and the human ignores that and doesn't put food down until the cat performs some other behavior, the cat will stop howling. Both Tiki and Terzo learned that food didn't appear until they sat quietly beside the food tray, and that's one of the first things I learned when I arrived in this household. A cat will almost never meow at another cat. Cats use this sound for humans.
One of the popular humor pieces in Mewsings/Musings is Cats vs Dogs. And we have a great many fascinating facts about cats on our Cat Facts page.
Among the most notable is that Alexander the Great, Napoleon, and Hitler were apparently terrified of cats. So we don't need a special day to dominate!
June 6, 2020:
June is Adopt-A-Shelter-Cat Month, which is very important because so many kittens are born in the spring, and tend to be turned over to shelters if the owner of the mother cat hasn't arranged for them to be adopted. This is also Pet Appreciation Week, and was Hug Your Cat Day.
I thought I'd share an interesting site Bobbi found: https://catdogwelfare.wixsite.com/catfaces/cat-faces-interactive-quiz. You can take a quiz to see if you can figure out what your cat is thinking by the expression on his or her face. Fascinating!
Of course we can figure out what another cat thinks by their body language. The way a cat holds its tail, moves its whiskers or its ears, or curls a lip all indicate how he or she feels about the current situation. Our friends at Alley Cat Alleys (one of the charities our Fan Club supports) provide this handy guide:
https://www.alleycat.org/resources/a-visual-guide-to-cat-body-language/
Notice the photos on this page, including those down the right side of the page, to see how I express myself.
May 30, 2020:
We're finally having some lovely weather here. The lilacs are in full bloom, trilliums surround the lamp post on the front lawn, and Don (our helper, whom I really like because he brushes me every week) planted red petunias in the tubs along the driveway and front walk.
Yesterday Don brought a huge bag of dry food, and gave me a few bites to nibble as he transferred some to the bin in the kitchen. I've learned to obey him just as I follow the directions Bobbi gives me, because he won't reward me unless I sit and give my paw, come when I'm called, and roll over as he brushes me.
Humans underestimate how well cats understand language. In fact, they don't realize how smart many animals are. We just added a few facts about pigeons to the Animals page this week. Did you know what they can recognize human faces, and count to nine?
And on the Fan page, we've added a mother goose and her goslings, enjoying spilled seed from the feeders on Steve Pitt's property.
May 23, 2020:
The need for "social distancing" during this pandemic, has revealed how many celebrities live with cats. We've seen Kate McKinnon's grey and white cat (who looks a lot like Yours Truly!) frolicking with her during Saturday Night Live sketches, have watched Kate Beckingsale play with her cats, Clive (grey & white longhair) and Willow (white), and Anthony Hopkins's grey tabby in the background during an interview. Even former Australian PM Kevin Rudd was interviewed with his cat in the background.
We have a very long list of celebrities who live with cats linked to this page, which includes some humans and cats who have left us after we posted their names. The list is alphabetized, so you can easily find anyone who interests you.
Expect us to continue to add to this list as lockdowns continue with people still working from home.
May 16, 2020:
May is Be Kind to Animals Month, and May 15 is Hug Your Cat Day. Whoever came up with this idea probably didn't have a cat, as we don't like to be hugged. We prefer to cuddle our own way, on our own terms.
We added an item this week to the Animals page about how otters play (find it by searching for "otters"). It seems these delightful creatures like to juggle! Trainers are presenting the otters with food puzzles. I received a food puzzle for my Christmas this year, and love it, as you can see in the photos Bobbi took of my sniffing for the dry food nibbles, then using my paw to retrieve them. The silver ribbon in these shots was added by Bobbi to get my attention. But it didn't take long for me to figure out the concept. There are little plastic bubbles on each side, which I have to move to one side to get at the nibble hidden underneath. Fun!
May 9, 2020:
Happy Mother's Day tomorrow, to all moms, especially human and feline ones. I don't remember my mom, and was spayed before I could have a litter of my own. But my maternal instincts kick in with my tiny teddy and my other favorite love child, Hammy. This little hamster was given to me when I first arrived here, and I immediately adopted it. I have to know where he is at all times, and often carry him from one room to another at night before we go to bed.
May 2, 2020:
May 3 is World Press Freedom Day. We missed Autism Awareness Day last month, so I want to recognize this by showcasing special cards to send for birthday, anniversary or graduations, where you can write a personal message. These were created by Zach Reisman, an exceptional young man who has exploited the artistic talent which is common in those on the high end of the austism spectrum. It was at Zach's urging that I became a fan of The Big Bang Theory, although usually avoid sit-coms. These cards would also be most appropriate to send to those grieving the loss of a family member or close friend, or to send get-well wishes to a recovering patient. Go to http://www.zachdesigns.ca/\
April 25, 2020:
This week the holy month of Ramadan began, which will be difficult this year because the faithful will not be able to gather for prayers or with family and friends to break the daily feast after sundown. Ramadan is the month that the Quran or Koran - the holy book of Islam - was first revealed to the prophet Muhammad by Allah (God). We have very close friends who are Ismaili Muslims, the peace-loving followers of the Aga Khan, who support his worldwide philanthropy and many charities.
Have you noticed how clear the skies are now that there's so little air pollution? Wouldn't it be great if we could extend that clean air after the quarantine is lifted? Most of the pollution is caused by the burning of fossil fuels, so maybe it's time to consider an electric vehicle or more use of bicycles.
Bobbi has been helping her mentoring client research facts and links for his daily blog on COVID-18. Read it at https://www.econogics.com/blog.htm
Not much cat stuff this week. But we continue to add to the Cat Facts page and the long list of Celebrities who live (or have lived) with cats.
And in case you're wondering how I'm spending my time, here I am on the den floor, holding onto one of my favorite catnip toys. It's old and ragged,
but I still love it! Note that I use my right leg to help hold onto it.

April 18, 2020:
I haven't written about the fact that Bobbi has only left the house twice since the first of the year. I love having her home so much, but finally decided I should pay attention to the TV news (which seems to be on all the time) and find out what's going on.
Somebody just reminded us that people are now acting more like cats: staying indoors, sleeping a lot, washing all the time, and avoiding strangers.
I can't help but feel this is connected to Earth Day, which is celebrated all this week. Would this virus have spread so quickly and so widely if it hadn't been for many of the effects of climate change? And a warming planet will combine with changes in the weather to increase the spread of all diseases, insects, wildfires, flooding, the rise in ocean levels, and other natural disasters.
Cats don't worry. But I hope enough people wake up and understand what's really at the root of this pandemic.
April 11, 2020:
The year's biggest and brightest moon is visible this month. I do look out our windows at night, but not to watch the moon, but rather look for any animals. We have had snowshoe hares again this winter, and now that it's spring, the squirrels are very active. Bobbi and I are hoping another local bird builds a nest outside our living room window, like they did last year. It was fun to watch the parents fly back and forth to feed the babies after they hatched!
These Easter photos aren't new, but still worth sharing. Those are balls, not Easter eggs in my basket. And I won't wear the bunny ears, so put them on this little cat purse instead. At the far right are Easter bonnets on cats, a set of adorable magnets Bobbi put on the side of the stereo in the kitchen.

April 3, 2020:
We're looking for distractions in this difficult time, and were happy to receive these pics from members of Bobbi's Private List. Luna is the dog who guards the llamas on the Katz-Couvrette farm in the NWT. And one the young deer on Steve Pitt's property greets the squirrels.
| | | |
| --- | --- | --- |
| Tempe greets one of the llamas as Luna looks on. Luna and Tempe are great pals. | | |
March 28, 2020:
This is Earth Day, which we shouldn't ignore despite the focus on the pandemic. Bobbi's friend and client, whose weekly blog and newsletter is usually devoted to environmental issues, is now publishing daily compilations of information on the virus. Bobbi contributes to this effort, at http://www.econogics.com/blog.htm
Darryl's newsletter recently recommended this blog as a diversion for those experiencing information overload!
Meanwhile, our friends Bob & Janet Barclay, have just arrived home from Australia, the last stop on a world tour. We've taken many of the great photos from their travel blog for the Fan page, allowing us to add several new species including a platypus, a Masked Lapwing, rainbow lorrikeets, and a kookaburra.
March 21, 2020:
The past week has been really crazy. I've picked up on Bobbi's anxiety as she checked in on family and friends to make sure everyone is okay. So far, so good.
Bob & Janet are still in Australia, and can't come home before their scheduled April return because there are no flights available. So they're taking precautions there, avoiding tourist areas they had planned to visit, and trying to enjoy the rest of their holiday in a modified form.
But last week they sent us some wonderful photos from Melbourne and the King Valley. This includes our first platypus. This semi-aquatic mammal indigenous to the eastern coast of Australia, it belongs to a small group of mammals called monotremes, of which there are only three species.
They also sent us more kangaroos, dingos, koalas and exotic parrots.
March 13, 2020:
It's the first Friday the 13th of the year, and even though we don't believe in bad luck, the coronavirus has everybody worried. But we should take heart. In 1665, the University of Cambridge temporarily closed due to the Bubonic plague. Isaac Newton had to work from home, where he used that time to develop calculus and the theory of gravity.
This month's supermoon will be about 13 percent brighter and bigger than average.
Thanks to Bob & Janet Barlcay, we continue add new species to the Fan Club. They sent us a monitor lizard from India, and emus from Alice Springs, Australia.
March 7, 2020:
I'm very annoyed that we have to change the clocks this weekend. I've ranted about this before, but humans don't pay attention to cats who Know Better than to change things like feeding times!
Fortunately, we have more important things to discuss this week. There was an interesting article about inter-species adoption recently, which puzzled me because we all know cats and dogs that have adopted each other's offspring, as well as dogs who have made friends with horses, goats, ducks, and even an owl. But this article mentioned how unusual it is for a wild animal to raise another species. So here's the lion mom with her adorable leopard cub, along with our pal, Channing (who lives not far from here) with his playmate, Titi, a blue parakeet:
February 29, 2020:
It's Leap Day, which means nothing to me. Cats don't understand calendars, clocks, or numbers. We do have a thorough concept of time, seasons, the weather, when the sun is on the bed or our favorite spot on the rug, when it's time to enjoy our daily dish of canned cat food, and whether there are enough pieces of dry food in our new puzzle feeder!
I'm also aware of which days things occur here, and when it's time for our friend Don to arrive. I often wait for him by the kitchen door, as sometimes he brings bags of things, including cat food! He's also the one who refills the jars of dry food from big bins or bags, cleans my litter boxes and refills them (I have two) with fresh or extra litter, and brushes me once a week.
Of course I know Bobbi's routine very well. I also know when she's going out, because she sits in front of the mirror on the bathroom counter and puts stuff on her face. She only does this if she's leaving the house! Once of the most-requested pieces in Mewsings/Musings is "Grow Your Own Fur Coat," which describes all the strange things humans do from the cat's perspective.
Speaking of writing, Bobbi has an article in the winter issue of Latin Magazine, as well as in writers' publications she contributes to regularly. And Barnard Magazine has just accepted one of her pieces for their spring issue.
I have to take some credit for all this activity, because if I didn't let her spend so much time in the office, she wouldn't be able to accomplish this. Some cats (or so I've heard) jump on desks and even computer keyboards, meow incessantly, and otherwise disturb writers at work.
February 22, 2020:
Last week was Hug Your Pet Day, but many humans don't realize that cats don't like to be hugged. We like to be patted, scratched (especially behind the ears!), and brushed, and even occasionally kissed, but we'd rather not be held tightly. I do, however, like to hug my "babies," which I carry around, usually at night. This blog has featured Hammy the Hamster quite often, as he's my favorite, but Bobbi recently filled a little tiger with catnip, so I've started to carry him around as well.
This week is also the celebration of the Hindu New Year, and next Tuesday is the end of Mardi Gras ("Fat Tuesday" the day before Ash Wednesday).
I've been thinking a lot about Indian culture since our friends, Bob & Janet Barclay, have been sending us wonderful photos from their visit in that country, as we mentioned last week.
Meanwhile, I received a wonderful Valentine last week, right after I uploaded the blog. It's from Bobbi's former student, Susan Haskins, whose fabulous website, TheatreTalk.org, contains archived interviews from her Emmy-Award-winning program. I was astounded when Bobbi pressed the top of the card and the cats began to sing! The other two photos show me with Hammy in my bed, and washing one of my rear paws.
February 15, 2020:
We celebrated Valentine's Day yesterday, along with some great new additions to the Fan page. Our friends, Bob & Janet Barclay, are on a world tour, and have sent us several great pics from places like Singapore and India. Bob has edited all the recent OIW anthologies, and will be working on the 2020 book as soon as they return from their trip.
This week's Fan page additions include a Himalayan goral, a cross between a goat and an antelope, an Indian muntjac, also called a barking deer, and two bharal. also called Himalayan blue sheep.
They also photographed this monk with a cat on his lap at a temple they visited. The Black Hat Buddhists from Tibet brought all their ceremonial materials and raised money to build this monastery, the biggest one in the state of Sikkim.

February 8, 2020:
I wanted to show you all my favorite birthday cards, some of which were for Bobbi's birthday in December, but featured cats in my honor! You'll see that my pal, Hammy, is watching over them, as well as over my other birthday present, a little bunny whose tummy is filled with catnip.
The middle photo shows me trying to see through the frost on the office window, and to the far right shows me being brushed.
| | | |
| --- | --- | --- |
| You'll see that the cards are displayed on the far couch in the living room, which sports a cuddly cat blanket, one of my favorite places to take a nap. | | |
February 1, 2020:
This is my birthday weekend, and I'm spending some time fishing munchies out of my new Puzzle Feeder. It's my primary birthday gift, although there's also a catnip-filled bunny I'm also enjoying. Photos of that will be comng next week, but I wanted you to see the bright green Puzzle Feeder, as it's a very clever design. Because cats won't poke their faces much deeper than their whiskers will fit, this is designed to that it's not easy to just pick up a munchie to eat. You have to use your paw first, to flip it out of the feeder, or nudge into a place where you can reach it with your tongue. Very clever! There are also little holes around the edges with covers that can be moved out of the way to reach the munchie. These are colored, but clear enough to see what's inside. By the way, my munchies are Iam's Oral Care Dry Cat Food, not treats!
January 25, 2020:
The Chinese year 4717 begins today, marking the first day of the New Year on the Chinese calendar. The Lunar New Year is celebrated during the second new moon after the winter solstice, usually between January 21 and February 20 on the Gregorian calendar. Lunar New Year festivities begin on the first day of the first lunar month on the Chinese calendar and continue until the 15th of the lunar month, when the moon is full.
Chinese legend holds that Buddha asked all the animals to meet him on New Year's Day and named a year after each of the twelve animals that came.
The animals in the Chinese calendar are the dog, pig/boar, rat, ox, tiger, rabbit, dragon, snake, horse, sheep, monkey, and rooster. Also, according to legend, people born in each animal's year have some of that animal's personality traits.
2020 is the Year of the Rat. I am Wood Horse, which pairs well with a Wood Dog, which is Bobbi's sign. The Wood Horse is full of imagination, looks at everything froma unique perspective and always want to express her ideas. We are also emotionally sensitive. Horses are usually popular, mentally alert, good workers, straight forward and honest. They seek the challenge and strive for success. They do not tire easily. That explains why my favorite toys are balls, springs, straws, and mice (not real ones!)
As those of you who read this blog faithfully know, I am a Blue Smoke Tuxedo. I have green eyes (Bobbi does, too).
My birthday this year comes just a week after the start of the Lunar New Year, and falls within the 15 day period of celebrations. So stay tuned for photos!
January 18, 2020:
A.A. Milne said, Some people talk to animals. Not many listen, though. That's the problem. Indeed! So it's appropriate to mention that January 22ns is Answer your Cat's Question Day.
My current question is about a mysterious item that arrived in a box from Amazon this week. Bobbi won't let me inspect it, and given that my birthday is coming, I suspect it's my present. Of course I'll post a few photos and tell you all about it in two weeks. I turn six on Feb. 3, which also marks the fifth anniversary of when Bobbi found me at the no-kill animal shelter in Aylmer, Quebec.
We awoke to a fairly heavy blanket of snow, with more on the way. I watched the squirrels in the back yard, who seem to have brought pine cones from the front to wherever they stash them for the winter. And I looked for fresh tracks from the snowshoe hares we think live under our front porch, as that's where the tracks seem to begin and end.
They feed on buds, twigs, bark, and evergreens. We also have lots of food for birds in our yard, with berries on the burning bushes in the front and on the types of ivy that produce berries. We also keep the bird feeder outside our office window filled.
January 11, 2020:
January is Walk Your Pet Month. Huh? Whoever came up with that idea didn't live in the northern U.S. or Canada! We haven't had much snow yet this winter, but we expecting freezing rain overnight, and a nasty few days when being outside is going to be difficult for humans and animals. Glad I can stay indoors and use a litterbox when necessary!
As you can see, I often curl up in my favorite "fur" bed with my hamster. He's a "love child" that I often move around the house when I'm anxious or bored. Bobbi often finds Hammy in the hall in the morning, although she had put him to bed in the living room the previous evening.
Sometimes I sleep on the couch with Princess, who was here when I arrived, the only grey cat among all the black stuffed cats in the living room.

The last picture is a bit embarrassing. Bobbi caught me in a huge yawn as Hammy and I settled down on the couch.
January 4, 2020:
We always start the new year with a new blog, adding the last few posts from the end of December to the bottom. As we begin a new decade, it might be a good idea to mention how this blog began. It was Terzo's idea, and he began the blog in 2006, continuing until his untimely death.
I then took over, but accepted the responsibility to adhere to Simon Teakettle Ink standards. That means we promote responsible cat ownership, recommend Bobbi's article on training, and provide free information and links to anyone who cares for or about cats.
We maintain the Fan Club, which currently has photos of more than 180 species from 57 countries, all taken by real people that we know, not lifted from internet sites. This is our way to promote the preservation of endangered species as well as working animals and pets who offer love and comfort to the public.
Do check out the links, including the one to Cat Facts. We also maintain many other pages of fascinating facts about history, inventions, culture, and even food. Start at the main Facts page and click on links from there.
As I write this, it's snowing, and as soon as I turn this over to Bobbi to do whatever she does to put it on the web (I'm not tech-savvy!), I'll go back to my nap. After all, this blog is called "Between Naps."
December 28, 2019:
This is our last post for this year, and for the decade! I've only been doing this for almost five years, but Terzo started this blog in 2006. It's been lots of fun to add new members to the Fan Club, pose for photos, and add lots of facts to our ever-expanding Facts pages. Just added new items to the Culture, Music, and general Facts pages this week.
Here are a few photos from Christmas, along with one of a deer snitching peanuts out of the chickadee feeder on Steve Pitt's property.
December 21, 2019:
Bobbi and I are eager to see the CATS movie. We love the T.S. Eliot poems (which Bobbi often reads aloud to me), and Bobbi saw the show on stage in New York, London, and Toronto.
We just heard that Jennifer Hudson, star of the new movie, named her two cats Grizabella and Macavity. You can see a very long list of cats belonging to celebrities on this website. See the link in the block just to the right, above the book logo and copyright statement.
I've been taking my afternoon nap in the living room, to keep an eye on my Christmas stocking. Bobbi has some of the special birthday cards she's been receiving on the piano, and a few gifts under the coffee table for her to open on her birthday (Monday, Dec. 23) and Christmas Day.
December 13, 2019:
It's Friday the 13th again. the last of four this year. But, as I've mentioned before, although our logo is a black cat (the first and second Simon Teakettles), we aren't superstitious. In fact, we think that black cats bring good luck.
It's time to share Simon Teakettle's version of The Twelve Days of Christmas, which appears in Mewsings/Musings. The poem was read by Arthur Black on his popular CBC radio show, Basic Black, and inspired one of his neighbors to create a fabulous needlepoint wall hanging. Here are the list of things in the poem, along with a photo of the wall hanging.
The Twelve Days of Christmas
by Simon Teakettle

On the first day of Christmas, my true love gave to me:
A chipmunk in a low tree.

Then:
Two catnip mice
Three fat frogs,
Four balls of string,
Five warm beds,
Six snowflakes falling,
Seven fishes swimming,
Eight faucets leaking,
Nine creamers dripping,
Ten dishes brimming,
Eleven leaves a-crunching,
Twelve laps a-awaiting,