Q.T. Penny's Diary

Hi. My name is Q.T. Penny but what I hear when Bobbi calls me is "Cutie Penny," and she sometimes even calls me "Cutie Pie."
As you'll see, she even found a box with my name on it for Valentine's Day! The blue box on the rug contains my Treats (yum!) which I only get once in a while.
This is not a blog, but a diary. It's the story of how I came to live here, what I've learned, and how things are going, week by week.
So you'll have to scroll down to read new entries.
I've learned a lot in this first month, including to come when I'm called, to Get Down! if I climb up somewhere I'm not allowed, and to Stay when she closes the door to the den/bedroom/bathroom, both at night when we go to bed and when she goes out.
Bobbi won a Special Award for her article on training, so she's already helped me get used to having my nails clipped (it doesn't hurt!), having my ears cleaned, and to let her sleep as late as she wants to in the morning.
That works because I don't get my Favorite Food (Fancy Feast) until lunch time, but I have Munchie Crunchies in my dish in the bathroom to snack on, so I'm not ravenous in the morning.
She put on my collar the first week, which felt a bit strange at first, but we also tried out the leash, which I'd rather play with than anything else. But that's the only way I was allowed to explore the rest of the main floor.
My license from the Gatineau SPCA just arrived, so it doesn't appear on my collar until some of the later photos.
I really like the Window in the dining room, which overlooks the back yard. There's not very much activity there, but I've seen the occasional bird and Bobbi tells me there will be many Birds and Squirrels once spring arrives.
You'll notice that I insist that Bobbi capitalize Important Words in this diary, just as Terzo used to do when he wrote the blog. I think it's important to carry on Meaningful Traditions!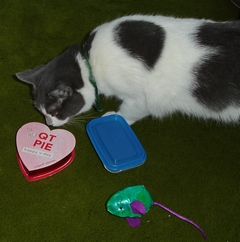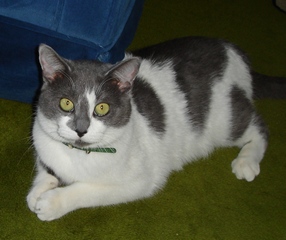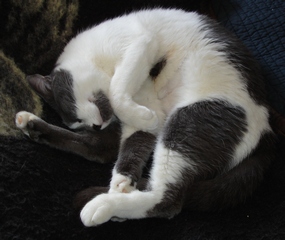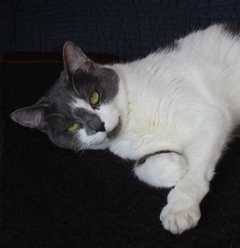 As I mentioned in one of my first blog posts, I don't know how to use the Computer yet, so I "dictate" my thoughts to Bobbi. I did try the Keyboard one day recently, but it made a Strange Noise and I figured out I must have done something Wrong.
I do enjoy sitting on the desk watching her, and also like to watch TV sometimes, when I'm on her Lap in the den.
But I have a really important job, as SpokesCat for Simon Teakettle Ink, which involves contributing to the blog, maintaining the Fan Club, and adding to the Pinterest Board.
Now that I've been here a Full Month, I've discovered there are carpeted shelves in The Office and even in the Guest Room, where I can sit to look out the window. This gives me my first look at the Front Yard, which I couldn't see before because of the Snow.
I also inherited (from Terzo) a fabulous tunnel, where I love to play.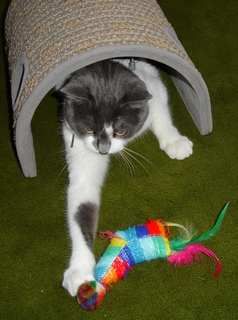 As I begin my second month in this lovely house, I've discovered a few more Comfy Spots to sleep, including a black "fur" circular cushion in the office, which Bobbi tells me was a Favorite Place where Terzo liked to curl up.
I've also been allowed Full Access to the Main Floor when Bobbi goes out, which is a Great Privilege I'm not about to abuse. I know where I'm not supposed to Climb or Scratch, and what Things I'm not supposed to Touch. It's really important to me to be Good Girl!
One thing puzzles me. I love to play with a Mouse on the floor, but don't understand why there are several Mice hanging from strings. I'll play with a Ball or other Toy handing from a string, but since my Background is feral, I know that you can't have any Fun with a mouse that's dangling, because it's Already Dead!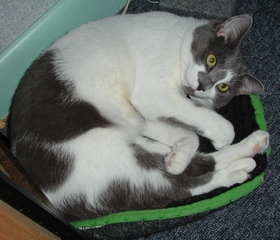 Here I am in my new Special Place in the office. When I don't feel like looking out the window, I curl up for a nap in this lovely round bed that fits me Perfectly. When this photo was taken, I had brought the Long Grey Felt mouse into bed with me.
We just celebrated the beginning of my Third Month as Official Spokecat and Resident Feline for Simon Teakettle Ink. It's a great honor which I'm taking Very Seriously.
Bobbi took me in my carrier, and at first I was quite anxious, worrying where she was taking me. I hoped she wasn't giving me away!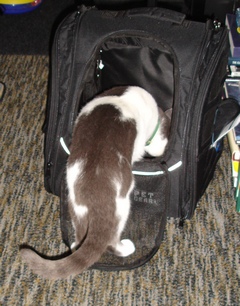 Here I am retrieving a treat, a neat way for her to get me to go into the carrier. I can sit upright in this really comfortable place, which rolls around when she pulls the handle!
After a short drive, she took me out and we sat in the waiting room for a bit. A man came in with a really nice little dog who seemed to like me. He kept coming up to the carrier, wanting to lick me and make friends. I'm not afraid of dogs, having spent so much time at the SPCA.
My veterinarian is a very nice lady with a lovely young assistant who petted me a lot. They both fussed over me, and I didn't mind at all.
Still, I was happy to come home again.
---
I'm delighted to see all the signs of spring from the windows where I look out every day. I jump up on the bedroom window in the morning as soon as she opens the curtains, then spend some time in the dining room window in the morning, and in the office in the afternoon. That's the best view, because the bird feeder hangs close by!
I'm learning to bring balls back to Bobbi after she throws them for me. Then she can throw them again! But I won't do that with mice. I like to keep all my mice in different rooms where I can be surprised when I find them again.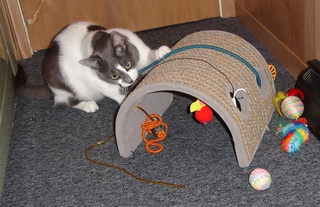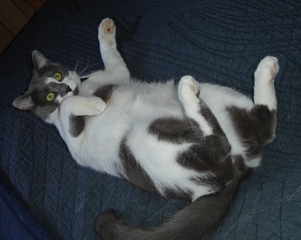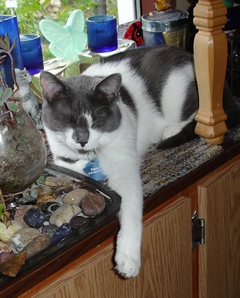 Here I'm lounging in the dining room window,
but I usually sit, facing out, to watch the birds
and squirrels in the back yard.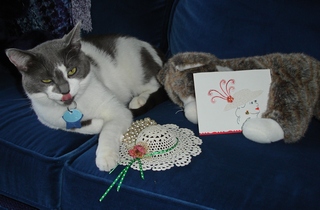 Bobbi said I should create a Priority List,
so here we are:
CUDDLE
EAT
PLAY
WASH
SLEEP
and Lily Fry, another MEWSical Society member,
thinks we should have a reading contest. She prefers the Sports section of the newspaper.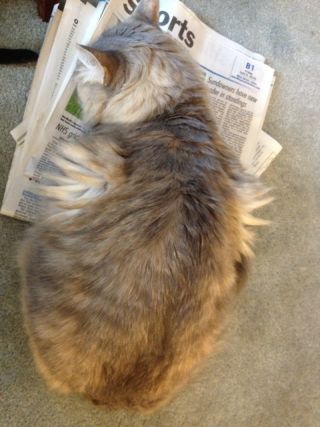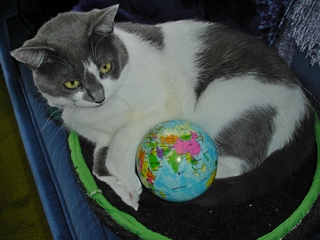 Here's my new Globe Ball, which will let me see all six continents where my Fan Club members reside.
We now have 43 species in the Fan Club, from 26 countries, and more keep arriving every few weeks.
We just received a flock of flamingos and a cat from southern France.
Our friend, Zach Reisman, a talented artist and budding graphic designer who lives in Montreal, befriended this stray dog in Cuba, and sent us this photo: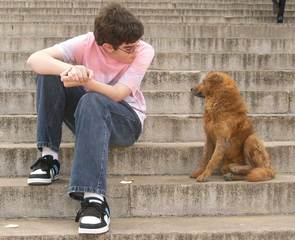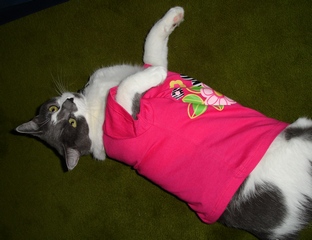 Bobbi bought me this pretty t-shirt.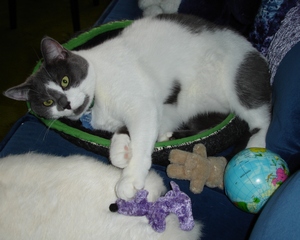 Making sure my toys are nearby before my nap.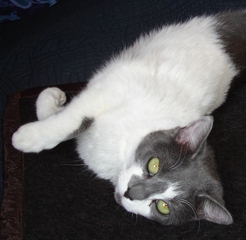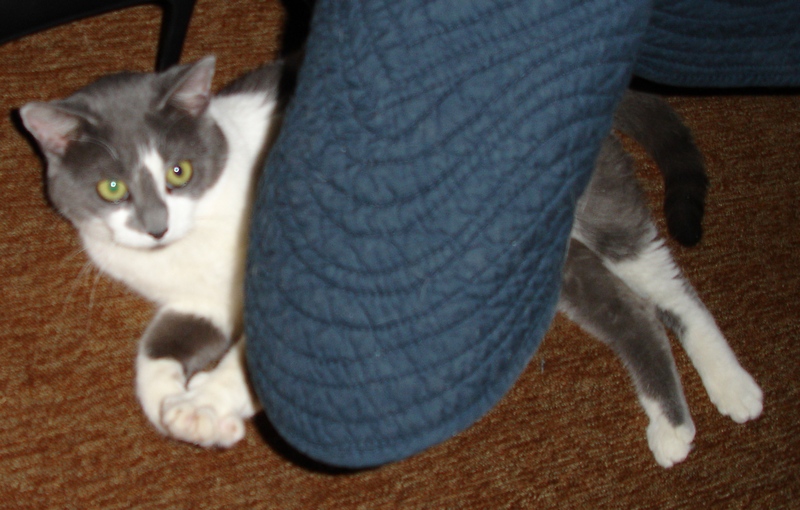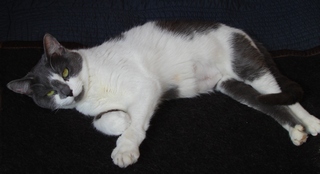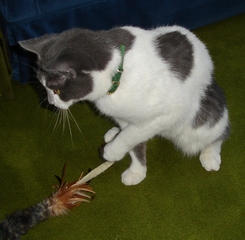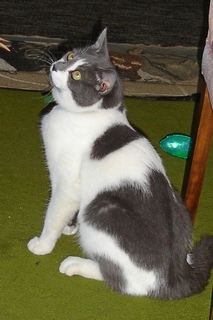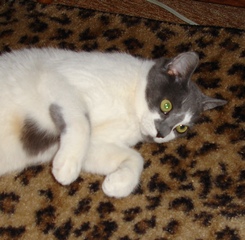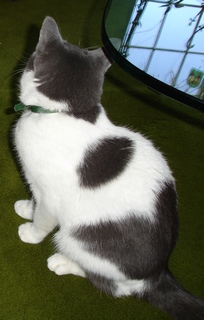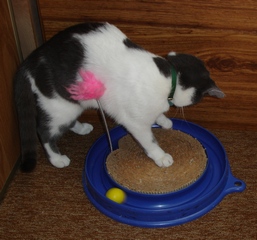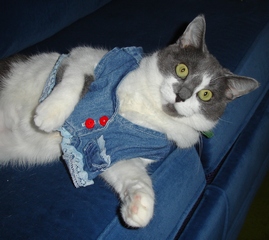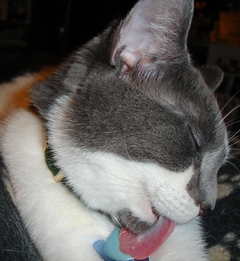 Bobbi caught me with my tongue out.
I look as if I'm washing my license!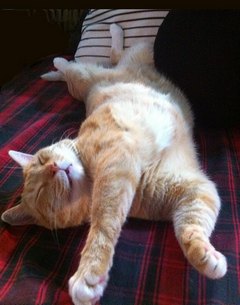 Stanley Haskins, one of our MEWSical Society
members, competing with me in the
"stretched out on your back" contest.
I'm trying to steal a few spring accessories
from Princess, but then I decide we're really not
in competition, so I curl up beside her for a nap.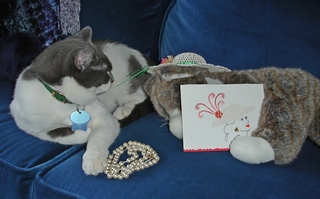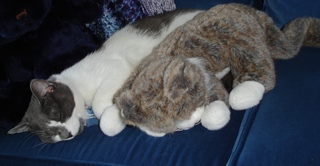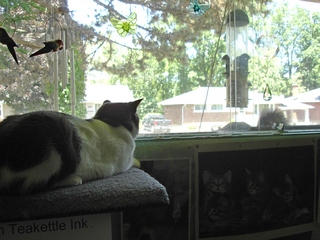 This baby squirrel was so busy feasting on seed the
birds dropped, that he/she doesn't even know I was
close by, watching intently.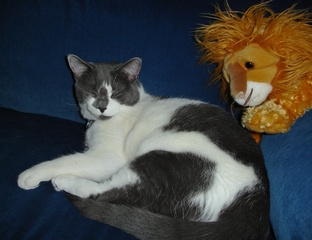 Sometimes I sleep on the Far Couch in the living
room, where my Favorite Lion can watch over me.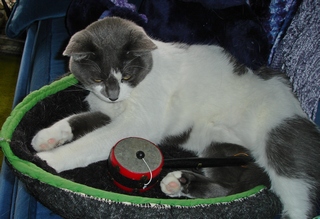 I was told I'm supposed to Figure Out how to use
this little drum, in order to fill Terzo's Big Paws
as Percussionist in the MEWSical Society.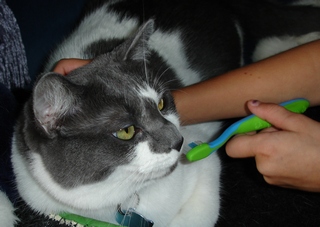 Rosie came across the street to help me brush
my teeth. I can't hold the toothbrush by myself.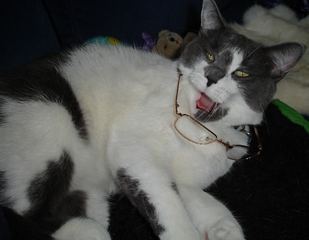 A big yawn, as I tire of reading on the IPad.
---
Did you know that female cats tend to be right pawed,
while male cats are more often left pawed? I'm the exception to the rule, because I'm definitely left-pawed.